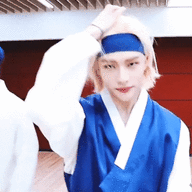 Joined

23 September 2018
Messages

4,335
Reactions Received

20,293
Points

12,744
Location
Gender

Female
Ship
It's finally time for KS Awards Revamp Season!
What is Awards Revamp Season?
It's the time of the year when the badges of your favorite groups and soloists can now be updated to new photos!
The groups/soloists eligible for revamps are listed below. If you'd like to claim op for a revamp thread, you MUST read everything in this thread.
If you'd like to be tagged in the revamp threads, please let the op of the thread know when they have created it!
General rules for all badges and badge threads:
1. IMPORTANT: Share voting forms with all 4 awards team members. You do not have to do this immediately- just do it before you submit the badges to be uploaded; this is to prevent users from rigging votings.
2. Please do not make badges with white or black backgrounds!!! They don't look good on light or dark modes respectively.
3. Follow badge making guidelines. If a badge that doesn't follow them wins, then the awards team will modify the badge or will upload the second place badge instead. How to make badges can be
seen here
.
All general rules and information that you need can be
seen here
. Please be familiar with these before making badges or oping a badge thread.
How do I become an op of a badge redo thread?
1. Check the list of groups and soloists that are eligible for redos listed on the bottom of this thread. Groups with strikethroughs mean that the op for them has already been claimed by another user.
2. You may claim no more than three threads at a time.
3. All ops for threads will be first come first serve (you are not guaranteed op, however, if you do not follow all of the directions).
4. Once you have understood all of the rules and directions in this thread, pm all four Awards Team members @Yolks @vogue @NASA @Taehyun and ask to be the op for the group you want. You must confirm in the pm that you have read this whole thread and will take responsibility for all of the badge threads you create. We will send you a form to confirm that you understand the rules!
How do I create the badge redo thread?
Your thread will look the same as a normal badge thread.
Click
this thread
on specific instructions on how a thread should look like!
You may use the Fandom List tag ONCE at the beginning of the thread. You must give those users an option to drop out from the tag list for the thread. Please do not continue to tag users if they have expressed that they do not want to get notified and do not spam tags.
How long should the badge making process last?
Suggestion Period: At least 1 week, but no more than 2 weeks.
Voting Period: All votings combined (preliminary, final, etc) in 2 weeks.
1. You must set the time limit when you make the op.
2. FOLLOW THE TIME LIMITS YOU SET!!
3. If you find that you are unable to follow your time limit, then you may hand it off to another user or let an awards member know. If you need to extend the time period for whatever reason, please pm awards and confirm with us. There will be no consequences if you do this!
How will the voting work?
Badge votings MUST use Google Forms to avoid confusion. The votings for badge remakes will follow the same rules and directions as normal votings.
1. DIFFERENT FROM NORMAL: You must include the original badge as a choice for all members/groups in the voting, as there may be users who prefer to keep the original badge.
2. As stated above, you have to share the forms with all four Awards Members.
3.
Click here for an example voting form
Which groups are eligible for redos?
After discussions, we have decided that the groups below will be eligible. They were determined by the last date updated and the number of users with those badges.
As stated above, groups with strikethroughs have already been claimed op!
Have fun with revamps and please let us know if you have any questions!
~Awards Team
​
Last edited by a moderator: