Joined

5 October 2020
Messages

4,217
Reactions Received

8,049
Points

25,926
Location
Website
Fandom

STARWOL
Gender

Female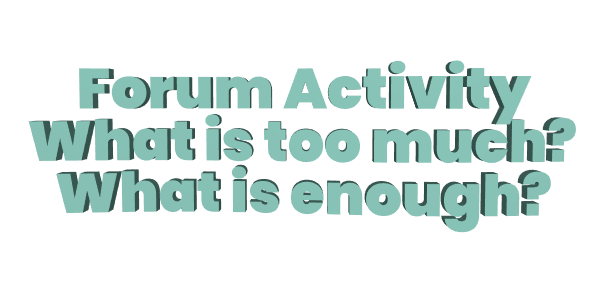 yes that is right, yet another annoying but to me interesting ''forum'' topic to talk about
What type of forum activity is enough for you? What is too much?
Is it enough for you when a forum it's members are not super active and create new threads every week but not new ones every single day like what happens here or is that not enough activity for you? do you consider such forums ''dead'' ish ? even though members still may log on every single day and post a little
Do you maybe prefer a forum the most when there is 100/200+ members online at the same time all day every day and have 100000 of new posts every hour
i think a forum is the most enjoyable when it comes to activity with at least 50/70 members online per day
so that is not a lot but also not little in my opinion
and for staff it may be more easy to handle such numbers moderating wise
being staff on a forum with 200+ members online all the time , would and could be chaotic a little?
i think forums that do not have super much activity per day but still enough activity per week, so let's say 40/50 new threads per week
it may not sound like a big number for some of you but i think it is more than enough for some places
it is also enjoyable sometimes to be a part of a small family like community where it is super cozy because everyone is on real good terms with each other​