Joined

5 October 2020
Messages

4,217
Reactions Received

8,050
Points

26,026
Location
Website
Fandom

STARWOL
Gender

Female
posting this in technology board because i want real discussion and forums are tech related so yeah, not suitable for general spam board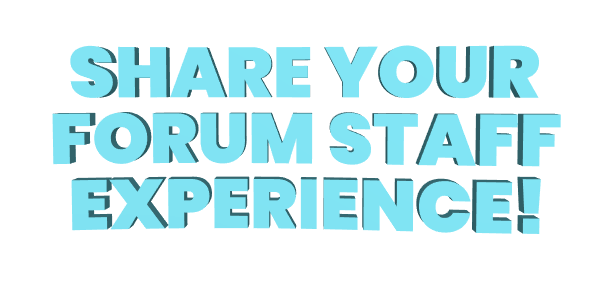 Ever been staff on a forum? Yes - for how long? No - Why not?
What did you like about being staff on a forum?
Do you think you were or ARE a good staff member?

I been staff (admin and moderator)on multiple forums in the past.... from what i can remember, i was staff on pokemon, winx club, graphic, general chatter, selena gomez and kpop forums and probably forgetting a few
but yeah i been active on forums FOR LONG TIME, probably too long lol
and when i get active on a forum and like the community i usually apply for a staff position at some point. usually got accepted into the staff but also often left staff teams in the end because getting to know the staff teams more and more i decided that it was no good to stay.
You have no idea how many staff teams are crooked on so many forums , it is insane. it is hard to find a forum with a staff team that is A OK and filled with true and honest people
though i have a feeling when it comes to THIS forum, the staff team is quite alright for sure!
i like to help out in general, online and offline , so that is why i apply most of the time when active on a forum
i always been like that, since i was a little girl and people always tell me that , that its one of the best things about me, i am very giving
guess that is one of the main reasons i am trying my hardest to get into a school to study social work
as admin, i have had good experience but also bad experience
like for example, where the owner was so incredibly inactive, not much could get done in the end
struggling through sending so many emails to them but hardly ever getting a reponse back ... i just quitted in the end
in my previous thread about forums people do acknowledge that is hard to find forums with a good decent staff team that treats all members fairly and equally etc
so what about your own personal experience when on staff?
tagging active community again - forgive me if i forgot you
@Vikki @bulletproof @maruberry @lexus @yellowcoat @Mr_Boogie @honeyfornomoney @geegell @ohmygay @gayzone @eclipsoul @Yachii @amourpinks @karina @Lovely_Cornchips @uwuWinter @OnlyCalB @RandAlThor @DarlingBlue @Reo @JakeyWantsCakey @birbdae @Ozymandias @Junkyu @uhgr8 @raymondchouku @Puma @NASA @LeeHoseok
​
Last edited: