Joined

5 October 2020
Messages

4,217
Reactions Received

8,047
Points

25,926
Location
Website
Fandom

STARWOL
Gender

Female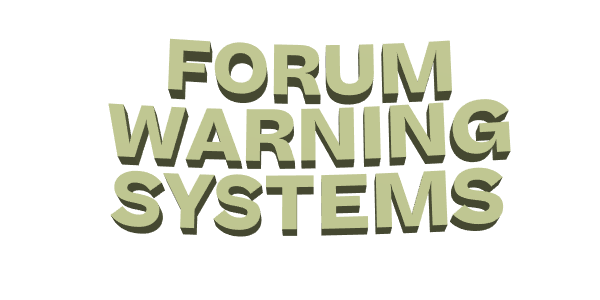 no no no, i am not coming for ks warning system, don't get the wrong idea please, if you interested, just read along

besides, i have never even gotten any warnings here so i have no reason to even bitch about it anyways ♥
ok so hi


i consider myself a big forum user and so i have seen plenty of warning systems over the years,
i used to be active on so many back in the day and now not as much but still
A LOT of forums have set up their own warning system, some forums warning systems are alike some not and also our lovely ks has got one going on....
but it made me think the other day.....
how do you guys feel about forums having up a warning system
?
1 do you think , on any forum you are active on or been active on, their warning system is a good one and a fair one?

2 have you ever been dealing with a warning system you thought was not right/fair?

3 do you think you a warning system is useful? or should people just get banned more quickly after misbehaving bad twice or so? like, do you think forums should be more strict instead of giving many warnings?

4 do you prefer a forum with a warning system or would you appreciate a forum community where they perm ban people if they continuesly misbehave?

5 what do you think of warning systems that also give people chances to redeem themselves and get warnings removed from time to time?

i personally don't care whether a forum has a big warning system or not
at the end of the day, as regular member you usually are looking for a place (unless you a troll i suppose) that has got a nice community around, nice kind sweet people that treat you right, as you would treat them with good manners as well
and such nice community can be achieved with and without a warning system in my opinion
but looking at it from a different point of view, i personally would also not mind a community where they are more ''strict''
i mean sure, people deserve a second chance and what not, i can agree
but i also think that some forums, not directed to any forum in particular fyi, may be too lose at the end of the day when it comes to this
like i have seen forums in the past where there are active members but these members their behaviour is sometimes outrageous and disrespectful as hell towards other members/and or/ staff YET they are still going about and posting everywhere
because they are not banned despite their repetitive obvious bad behaviour... why is that?
it's ok people are being complete assholes because they gotten like 5 warnings so they will learn at some point because of them 5 warnings standing there? we do not ban them because they are active members and we care for the activity more than how the member makes the others feel sometimes? if no one else is reporting this user and everyone looks the other way when an asshole acts out, then who cares?
like i can imagine maybe those kinda thoughts are behind it on some forums, i don't know, just widly guessing
please , if you are interested in this topic, let's discuss it in a mature and respectful manner
i'd appreciate that
​
Last edited: