Joined

5 October 2020
Messages

4,217
Reactions Received

8,030
Points

46,095
Location
Website
Fandom

STARWOL
Gender

Female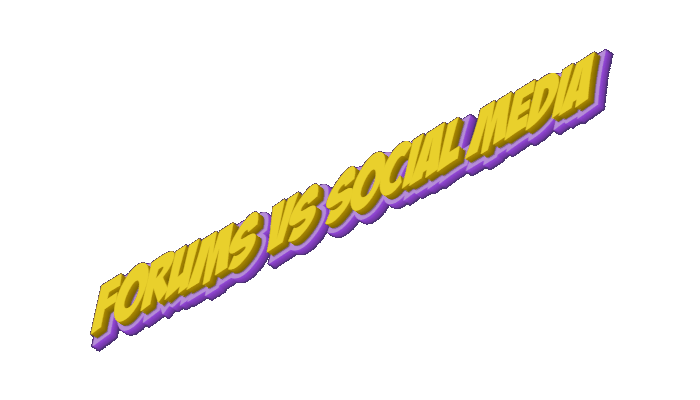 What is better?
Why do you think it is better?
What are the pros and cons of your fav platform?
I think forums are better because it is way easier to connect and find people you have the same interest with... sure you have facebook that can do the same, forums were existing before fb came along so meh, but i think fb is way too big to be able to create a safe and sound environment....with all the fakers, scammers and other fkd up people on there you do not want to get involved with, plus fb is filled with extreme trolls as well
oh hell no but then again so is twitter etc
pros....
being a part of a forum is just so much more cosy and can make you feel part of a real community but then just online
you can customize so much it is unreal, on social media you have your limitations but on forums you can do whatever the fak you want
you can choose to make it look modern, cute, old, neon, dark chaos anything is possible
that goes for the forum layout but also the membres their profiles
i love to the fact you can have an acc with fts like a signature and not just an avatar image
ALSO, it is way more fun to discuss and talk about stuff vs doing that in the comments section on insta lol
forums got threads, pms, profile messages etc
cons?
not sure
maybe that you can be unlucky on some forums with a bad staff system that is crooked in a way
where they do things not fairly yet vs staff teams on big platforms like fb and insta
i assume they got so many rules they have to follow, there is not always time and space to be corrupt
and if you actually misbehave, you get punished right away
without there being like; omg but they friends with the staff so they get a different treatment
or something like that
that happens on some forums for real, where the staff team is just filled with bad people and thus a lot of unfairness happens within the community
real shame when that happens, i can ruin a forum and it's reputation if they not careful
tagging random active people on this forum
@Vikki
@bulletproof
@maruberry
@lexus
@yellowcoat
@Mr_Boogie
@honeyfornomoney
@geegell
@ohmygay
@gayzone
@eclipsoul
@Yachii
@amourpinks
@karina
@Lovely_Cornchips
@uwuWinter
@OnlyCalB
@RandAlThor
@DarlingBlue
@Reo
@JakeyWantsCakey
​