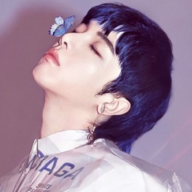 Hua Chen Yu's #1 Martian
.
.
Joined

21 November 2018
Messages

7,012
Reactions Received

27,522
Points

8,756
Ship
Basic Information
Hua Chenyu, also known as Hua Hua, is a Chinese singer and songwriter. Hua Chenyu is widely known for his powerful vocal abilities, dramatic stage performances and talents in composing and arranging. He rose to fame after winning the 2013 Super Boy singing contest produced by Hunan TV, China. He is often recognized as one of the most influential singer-songwriters under 30 in China.
Biography
Hua Chenyu was born on February 7, 1990. His parents divorced when he was young and he lived with his father who owned a silver-mining company. But due to his father always being away to expand his business, Hua Chenyu spent most of his childhood growing up with nannies. It was during this time of loneliness that he found an interest in music. He learned to play the flute, piano, guitar, drums as well as the traditional Chinese instrument erhu. He wrote his first song at the age of twelve after mastering the piano.
In 2013, Hua Chenyu auditioned for the Superboy singing competition (after being lured with the promise of free food) and auditioned with his own self-written song called "A Song with No Words". Just as it's title suggests, "A Song with No Words" has no lyrics and composes of only varied forms of humming. His audition gained him the title of "Martian boy" by Chinese media and a genius by the judges on the show. He passed the audition and even won the entire competition. This earned him a record deal with EE-Media.
Debut and Success
After winning the Superboy competition in 2013, Hua Chenyu gained himself a large and dedicated fanbase.
On June 28, tickets to his debut concert, Mars Concert 2014, sold out in a record time of 1 minute and 35 seconds. Due to the high demand, an additional date was added and the tickets for the additional date broke his original record and sold out for 1 minute and 32 seconds. On September 6 (before his debut album even dropped), his debut concert was broadcasted on Mango TV and amassed more than 400,000 online viewers, which also set a new record for the highest number of viewers of a celebrity concert in China. Over 120,000 online-viewing tickets were sold, which was recorded to be the most tickets sold for a celebrity concert in China. He sold over 10,000 tickets for the first day alone, making him the first mainland singer of this generation to hold concerts in a large arena.
He now has his Mars concerts annually in mutiple cities around China.
On September 12, 2014, Hua Chenyu released his debut album, Quasimodo's Gift, to critical acclaim. The overseas version of the album stayed at the top of Taiwan's 5music sales chart for several weeks and had ranked at the top 1 in the Jingdong Top 100 Annual Sales Chart (Music). The On November 24, his episode on the music show Hi Song was broadcasted. His song "Spring (春)" went on to win the Hi Song of the Year award. He released his second physical album in December, 2014.
Information source: (1) & (2)
​
Last edited: