Joined

25 May 2019
Messages

470
Reactions Received

1,735
Points

2,606
Location
Gender

Female
Japanese netizens write Xenophobic comments to Kang Daniel and TWICE Jihyo's dating news
netizenj.blogspot.com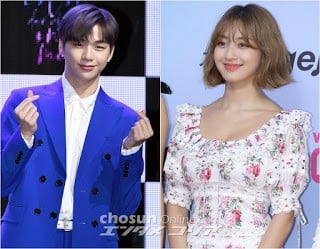 Jihyo, member of the female idol group TWICE, and former Wanna One member Kang Daniel have confirmed they are dating.
On the 5th, entertainment media outlet "Dispatch" published a photograph of Jihyo and Kang Daniel on a date. The outlet reported that the two have been dating since the beginning of this year. Their respective agencies acknowledged the relationship -- "Jihyo and Kang Daniel like each other and are currently dating".
Kang Daniel released of his solo debut album "color on me" on July 25. The album moved 460,000 units in its first week and set the record for the highest first-week sales for a solo artist.
Jihyo's group TWICE is in the midst of its world tour, the "TWICE WORLD TOUR 2019 'TWICELIGHTS'". The group successfully completed the America leg of the tour and are preparing for concerts in Kuala Lumpar on the 17th. They will perform a 7 city 12 concert Japanese arena tour later this year, starting on October 23 in Hokkaido.
1. [+12293 / -1548]
Oh, is that so...
2. [+10641 / -1620]
I don't care but does that guy have to wear so much makeup?
Korean actors and idols wear an atrocious amount of makeup.
[+96 / -275]
If you really don't care, why did you go out of your way to write a comment? LOL
[+264 / -28]
Answering honestly, it's because he's ugly so he has to wear it
[+197 / -18]
Make-up on top of make-up (surgery)
[+94 / -59]
If you go to Harajuku, all the young guys faces are caked in foundation
Men are unrefined salt.
[+139 / -9]
True~ In Japan, actors wear makeup to make their skin look good on camera + to make their eyebrows look clean but in Korea, they wear eyeshadow and eyeliner too.
[+117 / -95]
He can do what he wants, who cares
3. [+4215 / -729]
Yahoo-san, please make a blocking article function.
That will make articles of talents and genres I don't want to see not appear, please make it so I can set my own preferences.
[+117 / -143]
You went out of your way to read the article and comment, you're very interested in this, right? www
[+138 / -35]
The majority of young people aren't interested in this either.
[+114 / -50]
Why don't you just not click when you see the title?
[+112 / -49]
Are you going to write this same comment on all the articles you're not interested in?
[+35 / -11]
Articles on the front page have no connection to what is trending.
Yahoo simply put a Korean entertainment news article as top featured news.
[+71 / -26]
Even without a block function, if you see a title you're not interested in, wouldn't you not read it...?
4. [+2589 / -460]
There are plenty of newsworthy articles out there. Any one of them would've been better than putting something like this on the front page.
The people who are interested in this would search for it themselves. You should be running news that Japanese people would want to know and news that we need to know on the front page.
Korean idols?? Dating??
I don't give a sh*t.
[+46 / -100]
Sorry to the generation of old men who don't know how popular TWICE is, but they're way more popular then our domestic artists...
Your way of thinking is a bit frightening
People like you who think their opinion is universal share the same way of thinking as people who always make unreasonable complaints.
[+66 / -19]
↑↑↑ Your opinion isn't universal either!
[+43 / -20]
Eh~
You can tell by the number of thumbs up/thumbs down on the top comment. There's no demand for this news.
[+21 / -3]
The number of thumbs up/thumbs down shows that there is demand.
If there was no demand, there wouldn't even be any thumbs.
[+26 / -9]
Yahoo News likes Korea, that's why they're like this.
5. [+2159 / -368]
Idols that are openly dating don't last long, do they?
BLACKPINK's Jennie and EXO's Kai broke up 1 month after they were discovered.
They're busy & are chased by the media & have people writing half-truths about them on the internet
It must be hard when they're both popular.
[+147 / -153]
Who the hell are you. Go back to Korea.
[+49 / -23]
Does OP-san like TWICE or BTS? It's fine to like them but I think it would be better if you didn't post in Yahoo Comments. Because everyone here hates Korea.
[+68 / -14]
Not everyone who likes K-POP likes TWICE and BTS. I don't know about TWICE, but a lot of BTS fans are shunned by fans of other K-POP groups. Telling someone to go back to Korea because they like K-POP is too cruel. Are you fine with stooping down to the people in that country's level? I'm a (racially) pure Japanese person who likes K-POP but hates Korea.
6. [+3049 / -730]
Don't even know who they are, stop trying to make this news.
[+71 / -133]
They're so famous that it's strange that you don't know them.
[+72 / -106]
Doesn't that just mean you're behind the times? Well, I can already guess that you're not young seeing that you don't know TWICE. And say if you are young, you're probably dark-natured and avoid human contact.
7. [+2928 / -669]
Don't put this here (front page).
8. [+1588 / -254]
Korean topics are fine.
Please report on the rising extreme anti-Japanese sentiment in Korea.
9. [+1857 / -437]
It's good that they acknowledged it. Japan should follow their example.
10. [+2219 / -557]
Not interested!
[+102 / -59]
Not interested! (Read the article and left a comment)
[+9 / -49]
↑ You did too. Well, now I have as well.
[+36 / -15]
Interested! (Just me though)
Jihyo, member of the female idol group TWICE, and former Wanna One member Kang Daniel have confirmed they are dating.On the 5th, entertainment media …
www.allkpop.com