✯☾🌸Koala Of Spring's Moon🌸☽✯
.
Joined

4 November 2018
Messages

1,166
Reactions Received

7,654
Points

1,015
Location
Gender

Female
Ship
Here,I give you protection from all the unholy things I'm about to say in this thread. I want the best for the people..Only the people who love Joshua,and adore Seventeen. Let us start with our BDSM classes. You gotta go hard in it and get them to say,"Oh no,stop. I can't take it anymore.". Bible discussion study meetings get pretty intense.Hong Jisoo,also known as Joshua Hong of Seventeen,known as the lead vocalist. He is a heaven sent vocalist. He's got that soft voice that sounds Meloncholy. It evokes emotions into you,and it triggers you to feel nothing,but happiness. I don't really cry,but I felt like I should be crying.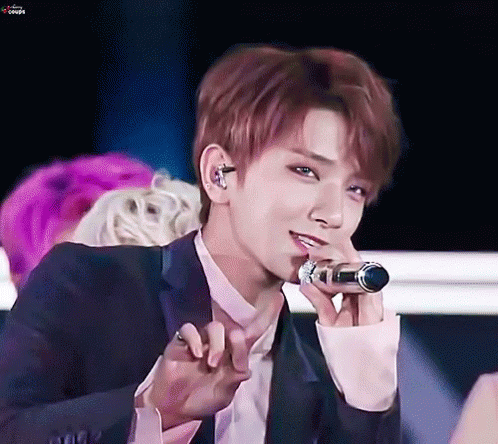 I didn't even have to search for a gift for the wonderful aesthetic of this thread because he is a visual,and everything his face is on is nothing but quality. That voice is smooth,and has the tone to get you grabbing a box of tissues...for your tears. Let's do a Bio of our savior. Korean name:Hong Jisoo(Our Savior) English name: Joshua Hong. He was born December 30th,1995. He is a Capricorn. You know what those hardcore astrology people say? Capricorn's are some Boss ass people. They work hard,get the job done,they're visuals,Dominant. When you search for "Who's a Capricorn and the perfect definition of one will be him and only him. Let us admire Joshua looking like a boss in three ways. I'm a Capricorn,and all I know is. I train hard everyday to be as perfect as Joshua. Let's talk about Joshua's likes. The Boy likes Anime. He has spoken about liking Naruto before. He probably did the Naruto run in his school gym,but we won't judge him. He also loves Exo because he likes Fine Cuisine~But,this is about my savior,so I'm not even gonna talk about that here. This is gonna get long,so I'm gonna bottle it in and cut it short because you don't need many reasons to stan him. You just do. Are you failing your classes though? I'm surprisingly not and I get all A's,usually. He is a great teacher! What? He's got Mingyu over here being a support! He's teaching Mingyu where it is.
We all try and help Mingyu(So fucking much. Bless this boy. Not an extremely bright crayon in a box,but he's a pretty ass crayon and I love him so much and his rapping is game-" In Fanfiction,it's not Fiction entirely because Joshua is nothing but a boy next door sweetheart who plays guitar and will probably serenade you. This concludes our class because I shouldn't even have given you reasons. YOU SHOULD HAVE JUST HEARD THIS GOSPEL TRUTH. Stanning Seventeen means you Stan Joshua,too,and 12 other amazing members. What more can you ask for? You got dances you probably can't do but they can,heavenly vocals,..rap,and visuals. You also got variety. Got a TV show coming,too. Hope you're excited because they'll be debuting in Japan on May30th,and us Carats are being some good food till then. Join us. We'll share. I hope you enjoyed this quality thread from me,LeeriaYa,and thank you for your time and I hope you were not too distraught and overcome with darkness from the sins you have witnessed,but let me cleanse you again. By the way,he loves Rabbits. All who stan him are probably adorable and fluffy as one just like him. So cute! Thank you for your time. Love from LeeriaYa,She has good taste.