Joined

18 November 2018
Messages

12,981
Reactions Received

40,764
Points

28,092
Location
Gender

Female
Ship
Wreck
Aight, it's been a bit too long since an 18+ thread graced this forum, so... HERE I AM AGAIN!
To the topic... Kai should be illegal and banned from:
1) Ever appearing on television or being filmed
2) ever dancing again
Why is this? Because Kai just standing there should be considered porn! Kai dancing is like straight up sex on screen though. Like how can one expect me to look at Kai dancing and NOT think oh damn I wanna fuck this guy. HOW IS ONE SUPPOSED TO DO THAT?
How does one look at THIS
and not go HOLY FUCK HOT DAMN, CHOKE ME WITH YOUR COCK!
I'm telling you, it's not possible unless you aren't into boys. It just isn't. If you are saying it is, you be lying and suppressing the hoe inside of you. Don't suppress the hoe. it needs to breathe too!
And now for maximum whiplash effect, have this!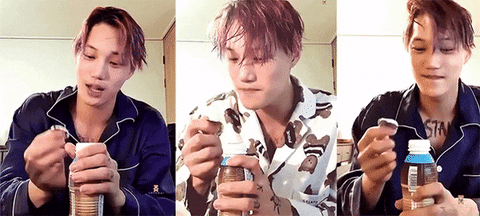 And to end this... Fuck Kai and if that can't happen, can he at least fuck me?