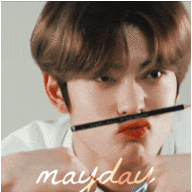 Joined

25 September 2018
Messages

8,189
Reactions Received

27,102
Points

5,111
Gender

Female
🌺 My last shop blew up but I eventually closed it when I deactivated my account about a year ago.
Back then, I was unable to manipulate gifs and only did picture sigs, but now I've started adding animations and gifs into my signature as well!
So request away. I'm very busy irl so you probably won't get it asap depending on the day. I've decided to make it free as I don't really need any points rn. 🌺
Ex.
🥀 Please be specific in what you want! I can't read minds.🥀
The more well known idol you choose, more likely the better sig you'll get due to higher quality photos. I can try to create a gif set if you want me to, but keep in mind that that's not my expertise. If I take more than a week to get back to you, send me a message on my board or via conversations. Remember to please be patient! It's unrealistic to expect me to get back to you right away. Thank you for shopping at Target.
🐙🐙
​