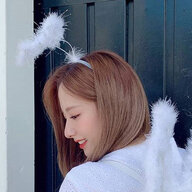 ❤️‍🔥AAPI MONTH❤️‍🔥
.
.
.
.
Joined

1 October 2021
Messages

19,776
Reactions Received

48,235
KS Coins
Fandom

Multi
Gender

Female
Pronouns

Troublemaker
Ship
Wreck
Idk, I just felt like doing this
It's not
all
Yeeun
tho some of them hers might've been my 2nd fav part when not my fav
Pepe
the chorus! It's simple, catchy, sounds beautiful, and Yeeun's ad-libs are cute
Eighteen
It was a single, so I'm counting it
The chorus again, especially the "oh baby baby" part. The chorus sounds REALLY REALLY GOOD, IT'S AMAZING
Like
the pre-chorus
I really like how Yujin and Seungyeon sound there
High Heels
Yeeun's "And let's dance tonight" because omggg
it sounds so good, and I love the way she pronounces the words. That's right, after not choosing a Yeeun part for the last few songs, in a completely vocal song I chose a Yeeun part
No Oh Oh
Honestly my favorite part might be the beat, I love it so much, but there's so much I like about this song, it's my fave title
The beat is unique in it's sound with the range of instruments yet gives an old school hip hop feel
Chamisma
This one
Idk, well the beginning is nice
Hobgoblin
Honestly for this one, I wasn't a fan of the voices Yeeun, Eunbin, and Seungyeon were making at first. I don't mind it now, but what I mean the chorus, rap parts, etc. are definitely not my fav part of the song
My favorite part is Seunghee and Sorn's pre-chorus, it sounds amazing
Where are you?
Ok, again my fav parts are Yeeun's soft vocal parts at the beginning. Very beautiful song
Not counting To the Sky since it was a pre-release single, so on to Black Dress
Black Dress
I can't choose between Yeeun's rap or Seungyeon's parts
Edit: Now I can't choose between Seungyeon's parts or Elkie's
No
My favorite part is Yeeun's first verse beginning with nan bichi na bichi na bichi na
Me
Seungyeon and Sorn's harmonized "do it like me" I LOVE IT SO MUCH IT'S BEAUTIFUL
Devil
Eunbin's part in the bridge for sure
Helicopter
Yeeun's first verse
Opinions? Agree, disagree, etc.
@Cheshire
Last edited: