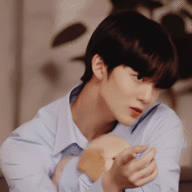 Joined

31 August 2018
Messages

585
Reactions Received

1,975
Points

8,215
Location
Gender

Female
Welcome to the Official Bang Yedam Artist Thread !
Bang Yedam is an upcoming YG trainee that has made multiple appearances in the public with YG treasure box, Stray Kids' elimination show, etc. He's trained for a total of 6 years and is currently 17 years old. He's had the longest training period out of all the other trainees and is currently appart of Treasure A, which is the highest class of all 29 YG trainees.
[ Basics ]
Date of Birth ~ 2002.05.07 (17 years old)
Blood type ~ A
Zodiac sign ~ Taurus
Hobby/Specialty ~ Reading, soccer / Vocal mimicry, writing impromptu
Motto ~ Give every day your best
[ Other info ]
- Yedam currently attends SOPA (Seoul Performing Arts High School), where lots of other idols studied and graduated from.
- He joined the company soon after KPOP STAR Season 2
- Came from a music influenced family, his father was a singer song writer
- Yedam currently works on producing and writing his own lyrics
- In September of 2018, producers announced officially that Yedam would enter a survival program called YG Treasure Box, along with 28 other male trainees. He currently is competeing, as the first episode is out now as of November 2018
- Won 2nd place in KPOP STAR Season 2
- Ye-dam made an appearance on the final episode of WIN: Who is Next with YG artists Lee Hi and Akdong Musician, marking his first tv show appearance after the end of K-Pop Star Season 2. They had a collaboration stage covering the song Officially Missing You.
​