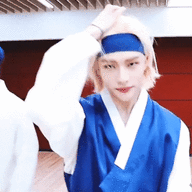 ✦ Hwang Hyunjin ✦ Tato ✦
.
.
.
Joined

23 September 2018
Messages

3,973
Reactions Received

19,424
Points

49,874
Location
Gender

Female
Ship
NCT, otherwise known as Neo Culture Technology, is a South Korean boy-group under the agency S.M. Entertainment. NCT goes by a new and unique concept as there is no limit regarding the amount of members, and it is open to new recruits. NCT being the term that refers to the members as a whole, members split up into a variety of sub-units to promote. Each unit has a very specific concept and members are assigned to these sub-units based on whether they fit the concept criteria. For example, NCT 127 is the Seoul-based unit meant to represent NCT as a whole by spreading Seoul and K-Pop globally. NCT U is a sub-unit with a rotational concept, meaning members can be swapped out in each promotional cycle to fit the song and concept. So far there are three sub-units and accumulated NCT currently consists of 21 members from countries South Korea, China, Japan, U.S. and Canada. They are an infinitely open and growing worldwide group.

NCT officially made their debut on April 9th, 2016 (Korean debut being on April 15th) through their first sub-unit named NCT U. The first line-up of NCT U consisted of the members Taeil, Taeyong, Doyoung, Ten, Jaehyun and Mark as well as Kun during their promotions in China for the Chinese version of 'WITHOUT YOU'. Following NCT U's debut, NCT came back with new units and members to form the Seoul-based unit NCT 127 and teenage sub-unit NCT DREAM. Beginning of 2019 followed the debut of China-based unit WayV.
-FANDOM NAME-
NCTzen
NCT
NCT U
NCT 127
NCT DREAM
MEMBER INSTAGRAMS
Johnny: @johnnyjsuh
Yuta: @yuu_taa_1026
Kun: @kun11xd
Ten: @tenlee_1001
Jaehyun: @_jeongjaehyun
Lucas: @lucas_xx444
Xiaojun: @djxiao_888
Hendery: @i_m_hendery
YangYang: @yangyang_x2
​
Last edited: