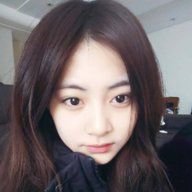 Joined

3 December 2018
Messages

3,148
Reactions Received

11,369
Points

4,356
Location
Website
Gender

Male
Oh My Freaking God Shuhua Is Gorgeous
What??? WHHHAAAAT?????
G-IDLE's been out for months..... MONTHS..
How in the freaking hell did I miss Shuhua.
JUST LOOK AT HER!
Look at the contrast.
Like Korean Heaven painted with white and black.
I'm getting flashbacks of the first time I saw Chaeyeon.
SHE'S SO CUUUUTE. SO GORGEOUS.
OMO X 1,000,000,000,000,000,000!
Wait.... I swear to god I remember seeing someone do a thread on Allkpop one time that said something about people not being into Shuhua and not thinking she was pretty....
PEOPLE GOT JOKES.
Many it seems are also.... Confused. Blind. And not me.
I think I'll give G-IDLE a proper chance now. Suddenly I'm motivated to listen to more songs.
I have no ulterior motives whatsoever.
This here is artistic appreciation.
P.S.
@WhiteWadeWilson
has been holding out on me. He didn't inform me of Shuhua's existence.
😄
Last edited: