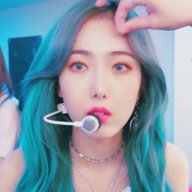 Joined

19 February 2019
Messages

1,231
Reactions Received

6,306
Points

3,361
Location
Gender

Female
T

A

N

G

T

A

N

G

T

A

N

G
FINGERTIP
2 YEARS AGO A LEGENDARY BOP WAS RELEASED
​
Fingertip
was GFRIEND's 5th title track and showed everyone that GFRIEND isn't "just" cute and innocent, but also POWERFUL and FIERCE.
​
Fingertip obtained a total of 2 wins on musicshows and it obtained everyone's heart and was named "that bop"
Fingertip was the title track of gfriend's 4th mini album named the awakening. The song wasn't recieved well in Korea but it was well appreciated internationally and made GFRIEND gain many new fans.
Happy 2 year anniversary fingertip!

Perhaps we'll see another fingertip from GFRIEND in the future despite it not being well recieved in KR.
IT is truly a song that is ahead of it's time.
So let's appreciate this BOP