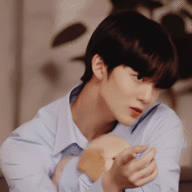 Joined

31 August 2018
Messages

581
Reactions Received

1,977
Location
KS Coins
Gender

Female
hey guys--- so uh YEAH im back and its kind of bad timing bc its right before school but i took a huge hiatus because my family was dealing with health problems and we were running low on money so i decided to put down the computer and actually help.. but now i guess you could say im trying to get back to being as active as before?
im fine now, for those who were worried and concerned thank you, and im glad that i was able to be apart of the team before my hiatus! everyone was super sweet to me and now i guess im just trying to get back on my feet.
for those of you who don't know me, my name is cassie.. i was part of the awards team and i took a hiatus because i was in a bad spot in my life.. i was pretty much known for being a chenle stan and yea..
im happy to see that kpopsource has grown though, im proud
so.. life updates.. ?
my ultimate bias...as much as it hurts to say..is no longer chenle
, i know i failed you all but hes still my bias in nct and hes like no. 4 rn.
he kind of got took over by bae jinyoung and cix.. because cix is the loml right now so..
hey.. im not solo nct account now lol, i stan cix, ab6ix, stray kids, nct, wanna one, x1, and im actually learning girl groups !! (cassie learning girl groups?? trust me i ant believe it myself)
right now im learning weki meki and gugudan, and im planning to get into fromis.. i stan itzy and blackpink now too
so thats about it for now.. i hope you guys didnt forget about me completely and i can be welcomed back even though the huge hiatus i took
thank you for everything <3