Joined

4 November 2018
Messages

7,921
Reactions Received

28,075
Points

5,199
Location
Gender

Female
Ship
I am writing this because I feel like there is more attention to the rumor side than the other side
Call me biased or whatever you want, I feel like the other side should be known as well (which I would do to any idol who gets caught in a rumor)
Fans are reporting any site that reports on this false rumor to SM, in the hopes that they sue for defamation. I don't want our lovely forum to be reported as well so I hope this thread will stop them from doing so.
In case anyone still thinks about his (pre)debut controversies, this thread clears up anything that was said:

This is what OP wrote after deleting the original post
Basically the post got rewritten with misinformation and got screenshotted and spread everywhere.
OP said that people misunderstood everything written.
A former SM trainee posted a story on insta that wrote
I've been watching him since my trainee days and all of these are facts. His personality is really shit. Stop protecting him already.
Netizens had issues with this:
1) How can a trainee know what he was like during middle school day, unless he went to the same school?
2) What if the trainee is angry because he didn't get to debut in NCT but Taeyong did? He could hold grudges against him.
Fans called a teacher of Taeyong (her number or email apparently got included in the post). This is what she had to say on the situation.
A classmate later wrote her view on Taeyong and posted her yearbook cover to show that she really was in the same class as Taeyong
(this is the only person who was involved in this story who posted proof that they were in the same class)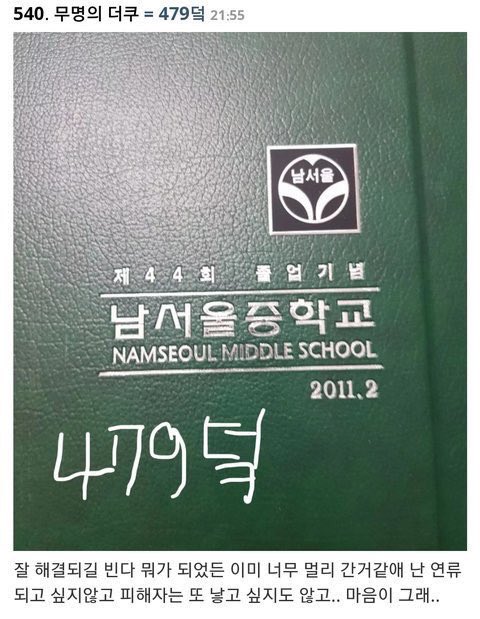 I hope it will be settled well. Whatever it will be I think it went overboard. I don't want to be linked and I don't want more victim... That's how I feel..
cr. @yestyday (Twitter)
Taeyong still gets called "Scamyong" by netizens despite it being proven to not be true.
Furthermore, there are individuals who repeatedly post regularly about Yeri and TY dating, hoping that both careers are ruined.
SM has not done anything yet regarding all those rumors.
If you want to help, NCTzens are trying to trend #TYONGFloveTaeyong as well as #SMProtectYourArtist​