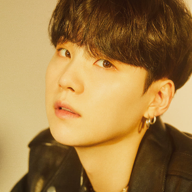 Joined

12 November 2020
Messages

534
Reactions Received

823
Points

1,933
Location
Website
Gender

Female, Non-Binary
I figured it was time
(also I hope this is ok? ik I'm still new lol)
There will be some stipulations! But I'm pretty flexible. I'm doing this all for fun and for practice!
I wan't to experiment a little, and that's so much easier when I have other people giving me new prompts to play with.
I am just a touch rusty so be easy on me, pleasee. And if you don't end up using whatever I made, you won't hurt my feelings any~
I can be a lot more versatile than this looks, but most of my new edits are fic headers I make for friends xD
But if you want dumb edgy vapor wave shit, I am 10000% your person
𝕲𝖚𝖎𝖉𝖊𝖑𝖎𝖓𝖊𝖘
1. Give me a Focus (an Idol, artist, character etc.) .
2. (Not required) I would prefer if you also gave me a picture you would like me to use!
~If you don't, I'll just pick one on my own~

3. I Do NOT use fansite photos, so keep that in mind! So anything official pleeaasse,
even if its a difficult picture to work with go ahead and ask and I'll see if I can make it work.
~And please don't send me scans unless the source is ok with editing~

4. (Not required) Give me a vibe! Tell me somethin about the pic even! Is there a backstory?
An MV I just gotta see? Some of these requests might be for artists I don't know much about,
and I'll be more charged with inspiration if you tell/show me a lil smthn~

5. If there is a style from me already here that you would want, let me know and I'll see what I can do!

6. Is there some text you want?? Let me know! (I'm not the best with text but this would help me get better!)

7. Sizing will usually depend on the pictures I'm using! but if you have a size preference lmk

8. Its super unlikely for me to decline a request,
but if you ask me for something super weird or something I just don't think I can do, that is a possibility.
But I am doing this for free so I think I'm allowed lol
Thats all!!
plz request somethin I'm very bored..
PS. if anyone rips my logo I will find you
​