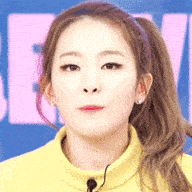 Joined

18 November 2018
Messages

3,051
Reactions Received

16,681
Points

4,139
Location
Fandom

Reveluv



​
Yeri spent Red Velvet's 5th Anniversary with Luvies at a fanmeet up in a cafe signing autographs, taking photos and just spending time talking to them!
Our maknae is honestly the sweetest and most loving person in the world! She has nothing but love for the fans and she continues to always show it whenever and wherever possible... She didn't have to go to this event (and Luvies don't even know how she heard about the event in the first place). But she did and she made RV's 5th Anniversary even more special for these Luvies that were lucky enough to meet her.
Kim Yerim really is our greatest gift
and SM's worst nightmare with all of the free content that she gives us
Yeri is the sweetest and rather than all the hate that she receives. She deserves nothing but love and affection, and you better start giving her it. That's the tea for today!!