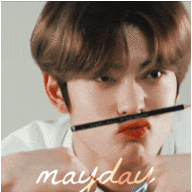 Joined

25 September 2018
Messages

8,189
Reactions Received

27,096
Points

4,861
Gender

Female
Honestly, I really didn't like it.
Now, if you know me from AKP, you know how much I love NCT. Period. No question about it.
Honestly, this song in my opinion was just messy. Of course, no bashing those who made the song, props to them, honestly, but...?? The song was very repetitive, and the bass was just underwhelming. I felt the song was very generic. Maybe a song for an ad, but this just ain't it for me. Also the lyrics?
"
Late night, eat it like In-N-Out ...

Jamaican girls wanna blow it down "
What? These lyrics ain't it if you're trying to break into the American market, SM. Woah, shocker? Also, this isn't going to bring a good image to NCT, even though they had 2 lines. These lyrics aren't what you sing if you're trying to make a name for yourself.
This wasn't NCT 127. This was Mark and Taeil. Honestly disappointed. I think Mark and Lay's voices fit this really well though, and Jason did an amazing job. What are your opinions?