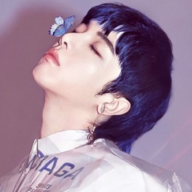 Hua Chen Yu's #1 Martian
.
.
Joined

21 November 2018
Messages

7,012
Reactions Received

27,522
Points

8,756
Ship
Honestly song is a bop but I only listened to this around Junish and haven't listened to it much after. I did have it on repeat though lol so I guess I didn't take it off for the entire month.
Top 5 artists
I only listened to Nadeem Mohammed during Ramadan (1 month) but he made it to #3... LOL
And I thought I listened to Maluma more than J Balvin but I guess not. Teoman and Gripin were as expected. I have been obsessed with their music this year.
I'm surprised there's not even 1 K-Pop group though... I'd imagine this would be different if EXO released music this year as a group.
And my top genres
I'm assuming "Filmi" is Bollywood lol. I downloaded some of my childhood faves this year and have had those on repeat!
My achievement of the year was listening to Sunmi's Gotta Go before it reached 50,000 streams LOL
And my top decade was as expected the 2000s
I actually thought Boyle Kahpedir Dunya (trans: the world is a b*tch) would have been my #1 song of the year. I listen to it all the time.
If you like rock and don't mind listening to a song from a different country (Turkey), I recommend it. I think what makes it really good for me is the meaning of the lyrics but the song still has a really good instrumental so check it out.
I tried looking for a good trans but they're all outdated and make no sense lol.
​